Shaun T Insanity workout
Total size: 7.95 Gb
---
Removed by the request of copyright owner
---
Category

Added

on 2012-04-24 01:32:28

Hash

9936D92FCC3182F0A8C1903FB98B02230964E663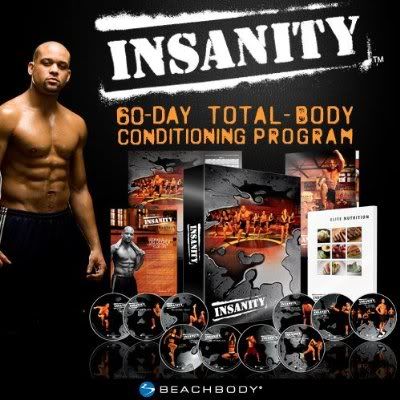 Your personal trainer Shaun T will push you past your limits with 10 discs packed with cardio and plyometric drills with intervals of strength, power, resistance, and core training. No equipment or weights are needed, and you donâ™t have to be in extreme shape to do it. As long as youâ™re ready to dig deep, Shaun will help you get insane results in just 60 days.
Hereâ™s what you get:
10 Insane Workouts
Dig Deeper & Fit Test. To start, Shaun will put your body to the test and see what you're made of. (30 min.)
Plyometric Cardio Circuit. Burn fat with intervals of intense lower-body plyo and sweat-inducing cardio. (42 min.)
Cardio Power & Resistance. Build lean muscle and upper-body definition with strength-training and power moves. (40 min.)
Cardio Recovery. Shaun goes...
| File | Size |
| --- | --- |
| 08 - Max Interval Circuit.m4v | 797.03 Mb |
| 09 - Max Interval Plyo.m4v | 739.63 Mb |
| 13 - Max Interval Sports Training.m4v | 721.92 Mb |
| 10 - Max Cardio Conditioning.m4v | 703.60 Mb |
| 14 - Upper Body Weight Training.m4v | 654.26 Mb |
| 11 - Max Recovery.m4v | 614.21 Mb |
| 02 - Plyometric Cardio Circuit.m4v | 571.35 Mb |
| 03 - Cardio Power & Resistance.m4v | 551.98 Mb |
| 07 - Core Cardio & Balance.m4v | 542.42 Mb |
| 05 - Pure Cardio.m4v | 525.96 Mb |
| 12 - Insane Abs.m4v | 515.16 Mb |
| 04 - Cardio Recovery.m4v | 440.59 Mb |
| 01 - Fit Test.m4v | 403.43 Mb |
| 06 - Cardio Abs.m4v | 297.16 Mb |
| 00 - Dig Deeper.m4v | 56.50 Mb |
| fit_test.pdf | 583.53 Kb |
| Insanity-Workout-Calendar.pdf | 244.36 Kb |
| Insanity-Workout-Schedule[.pdf | 146.96 Kb |
| insanity.jpg | 34.54 Kb |
| Insanity-Workout.jpg | 31.36 Kb |
| insanity journal.pdf | 23.25 Kb |